Metal Detecting Scoop Miami Strong
You are bidding on a BRAND NEW item!
Are you a serious Treasure Do you metal detect beaches, dunes and shoreline searching for gold, coins and other precious items? If you do, you know how important it is to have a great Stainless Steel Sand Scoop to dig up your treasure.

Sand Scoop Miami Strong product details
• Stainless Steel, Type 304, 2mm
• Handle diameter: 1.2 Inch/ 32mm
• Handle lenght: 43.3 Inch / 110cm
• Hex: 0.47 Inch / 12mm
• Weight: 5.5 pounds / 2.5kg
• Diameter: 6.3 Inch / 16cm
• Length: 9.84 Inch / 25cm
Made from real German stainless steel not from cheap aluminium. Will last lifetime. Ready to go. Comes with attached stainless steel handle. Unbreakable scoop, very strong, made for strong man with strong arms. With big holes for easy sand clearing and for small holes for small things, like earrings catching.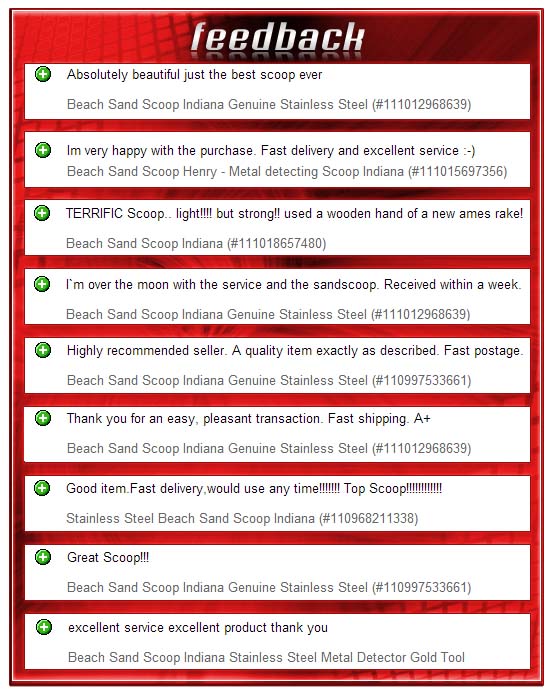 Will usually ship within 1 business day
• Shipping to: Worldwide
• Tracked mail, A priority
• Shipping from UK or Europa - Kent, United Kingdom or Riga, Latvia
• Ships with handle

Contact us if any questions and check all our offers!
NEW!! 2023 Beach Sand Scoop Miami Strong
Brand: Strong Scoops
Product Code: Metal detecting Scoop Miami Strong
Availability: 127
Related Products
Tags: Beach Sand Scoop Miami Strong, Beach Scoop, Stainless Steal Scoop, Metal Detector Sand Scoop, Beach Sand Scoop Indiana Henry, Indiana Henry